Sebagai transportasi yang merakyat, kereta api masih menjadi primadona di berbagai negara. Saat libur tiba atau mudik lebaran, tiket kereta api menjadi transportasi idola. Kereta api memiliki jalur khusus berupa rel yang membawa penumpangnya terhindar dari macet dalam perjalanan.
Dibalik kelebihannya tersebut, ternyata di beberapa negara terdapat jalur kereta api yang unik. Sebut saja jalur kereta api yang membelah lautan, melewati gedung lantai 19 hingga melintasi landasan pacu bandara. Ingin lihat lebih lengkapny? Berikut TribunTravel.com merangkum 6 jalur kereta api yang unik sekaligus aneh yang dilansir dari berbagai sumber.
Selengkapnya, yuk simak.
1. Jalur Kereta Api yang melewati gedung lantai 19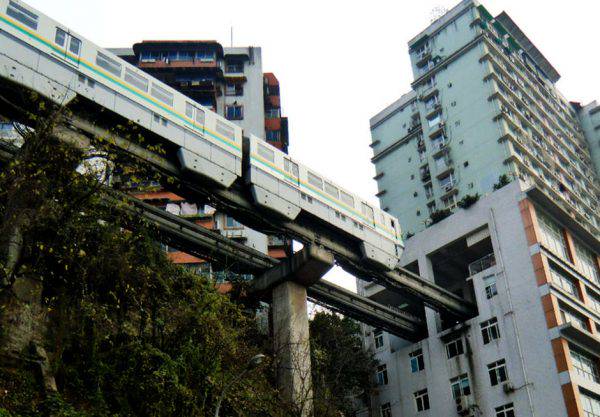 Dikelilingi oleh gunung dan lereng membuat sebuah kota di China tak memiliki banyak lahan kosong. Karena topografi yang unik dan kepadatan konstruksi bangunan bertingkat Chongqing, China, seorang arsitek memiliki perencanaan yang kota yang tak biasa. Tak hanya itu, kepadatan penduduk juga menjadikan menjadi alasan utama kekurangan ruang bebas di kota ini.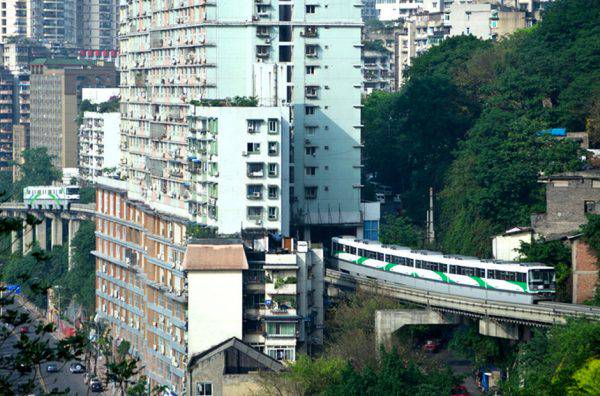 Kepadatan bangunan dan penduduk yang mencapai 49 juta orang, membuat penataan kota harus dilakukan secara berbeda dari biasanya. Dengan penduduk yang padat kota ini menjadikan monorel sebagai trasportasi vita. Alhasil sebuah jalur kereta api melewati aparteman lantai 19. Keputusan ini sempat menjadi kontroversi, namun akhirnya para ahli penataan kota kemdian merasa yakin kalau ini satu-satunya hal yang benar untuk dilakukan.
2. Jalur kereta yang sangat sempit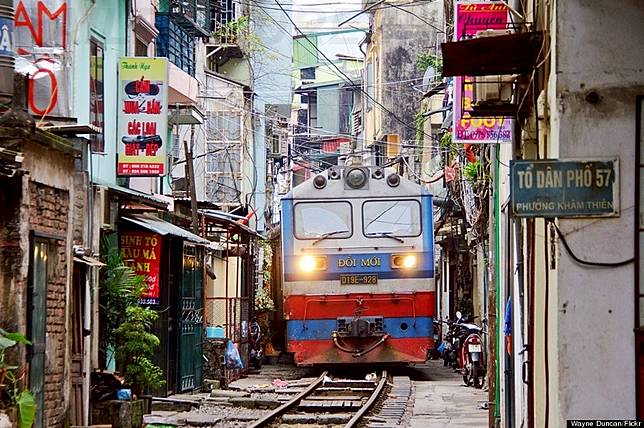 Sebagian besar jalur kerta api memiliki batasan untuk menghindari kecelakaan. Namun apa yang bisa diperbuat kalau jalaur kereta apai tepat di depan pintu rumah? Yah, seperti jalur kereta api yang ada di Kota Old Quarter, Hanoi, Vietnam.
3. Terowongan kereta api terpanjang di dunia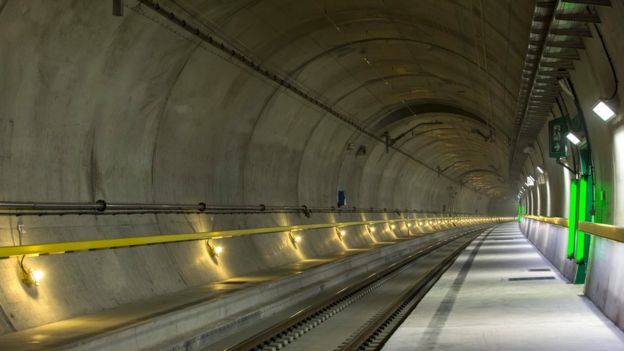 Terowongan terpanjang dan terdalam dibuka secara resmi di Swiss pada tahun 2016. Setelah hampir dua dekade pengerjaan kontruksi, akhirnya trowongan ini bisa beroperasi. Memiliki panjang 57 Km, Terowongan Gotthard berada di bawah pegunungan Alpen Swiss di antara Eropa utara dan Selatan.
4. Jalur kereta api yang melintasi landasan pacu bandara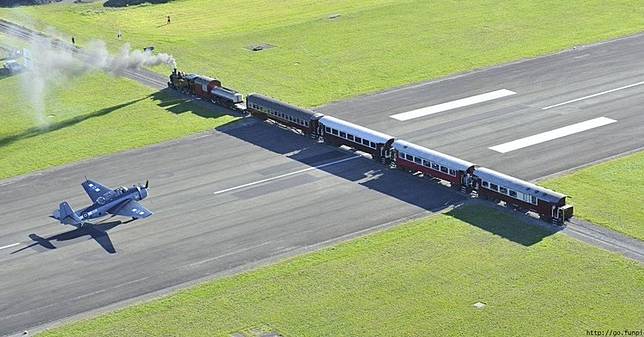 Gisborne merupakan bandara regional yang berada di Selandia Baru. Ini adalah satu di antara bandara yang memiliki jalur kereta api yang memotong landasan pacu. Bandara Gisborne memiliki wilayah 160 hektar dengan tiga landasan pacu. Satu di antara landasan utama tersebut dilewati oleh Railway Line Palmerston North-Gisborne. Bandara ini juga memiliki terminal tunggal dengan dua gerbang aspal.
5. Jalur kereta di Brusio Viaduct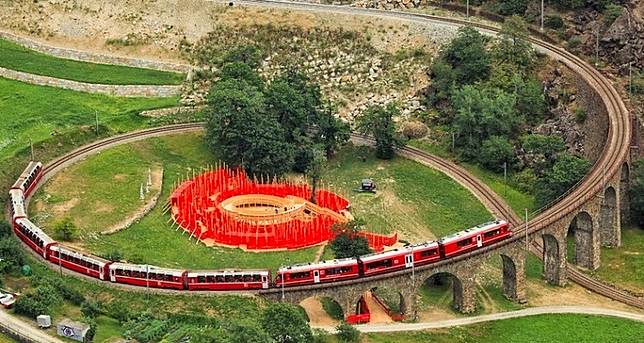 The Brusio merupakan jalur tunggal yang melekung dan membentuk angka sembilan. Jembatan kereta api spiral yang terletak di Brusio, Graubünden, Swiss. Jalur ini dibangun untuk memperpendek jarak tempuh. The Brusio merupakan bagian dari Bernina Railway yang berada di antara Brusio dan Campascio, sekitar 55 Km dari St. Moritz.
6. Jalur kereta api membelah laut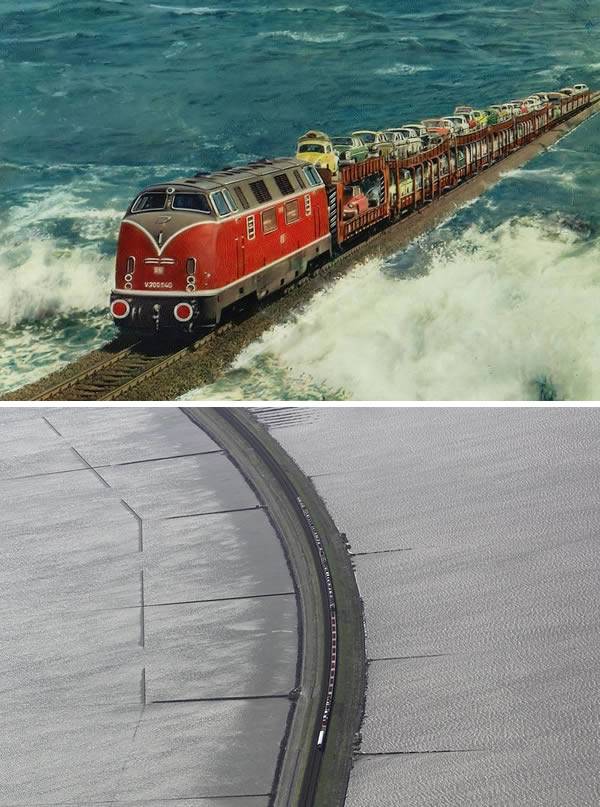 The Hindenburgdamm merupakan jalur lintas yang memiliki panjang 11 Km. Jalur ini menghubungkan antara Pulau Frisian Utara Sylt menuju daratan Schleswig-Holstein, Jerman. Dibuka pada tahun 1927, dulu jalur ini khusus untuk transportasi kereta api. Sebelum dibangun jalur lintas ini, melewati lautan ini tergantung pasang surur air laut. Setiap harinya lebih dari 100 kereta dan 50 mobil pengangkut banrang melewati jalur ini. [lt]