Niat berhenti merokok sang suami rupanya berbuah manis saat bulan ramadhan kali ini. Rupanya niat tersebut tidak hanya diutarakan, namun benar-benar dilakukan oleh sang suami yang tidak lagi merokok. Kebiasaan merokok itu pun sudah berhenti sejak satu setengan tahun yang lalu.
Alhasil pada lebaran kali ini sang istri pun mendapatkan hasil yang tak diduga dari berhenti merokok. Hal itu dikarenakan uang Rp 20 ribu yang biasanya di pakai untuk membeli rokok itu pun di masukan ke dalam aquarium bekas yang disulap sebagai celengan raksasa.
Meski awalnya sang istri tertawa melihat celengan yang begitu besar dan sempat merasa tidak yakin bahwa sang suami akan berhenti merokok namun sang istri tetap mendukung. Kini aquarium bekas yang disulap menjadi celengan itu pun berisi penuh uang lembaran Rp 20 ribu.
Bahkan jika dihitung-hitung tabungan berhenti merokok itu pun hasilnya tidak diduga. Karena saat celengan itu dibongkar bertepatan dengan mudik lebaran hasil tabungan berhenti merokok itu jika diibaratkan cukup untuk membeli satu unit motor.
Cerita berhenti merokok itu dibagikan oleh pengguna akun facebook Dita Sari Wootekh. Bahkan postingan yang baru diunggah pada 16 Juni 2016 itu pun menjadi viral. Ada sebanyak 30 ribu pengguna akun facebook menyukai postingan tersebut 30 ribu pengguna facebook lainnya membagikan postingan itu dan 10 ribu komentar netizen pun ikut membanjiri psotingan Dita.
Berikut postingan lengkapnya.
'Bismillah…
Sudh 1 ¹/² Tahun lebih… Sejak bln November 2015 Semua dimulai…dgn Niat…diri sendiri tanpa ada larangan & tuntutan dr pihak siapapun.. Suami berhenti MEROKOK…
memulai hidup sehat…
Saat itu rs gk percaya & gk yakin dia bisa… Dalam hati sih Tp TETEP q dukung berasa cepat & mudah… Maaf bukan sombong berhenti merokok bukan karna mau ngirit.. Saat itu sehari mau beli rokok 3-4 bungkus pun bisa…asli ingin hidup sehat… Intinya… Suami berkomitment..
Membuat bekas aquarium anak menjadi sebuah CELENGAN…Padahal gede bgt temptnya …hhhaa ketawa geli saat itu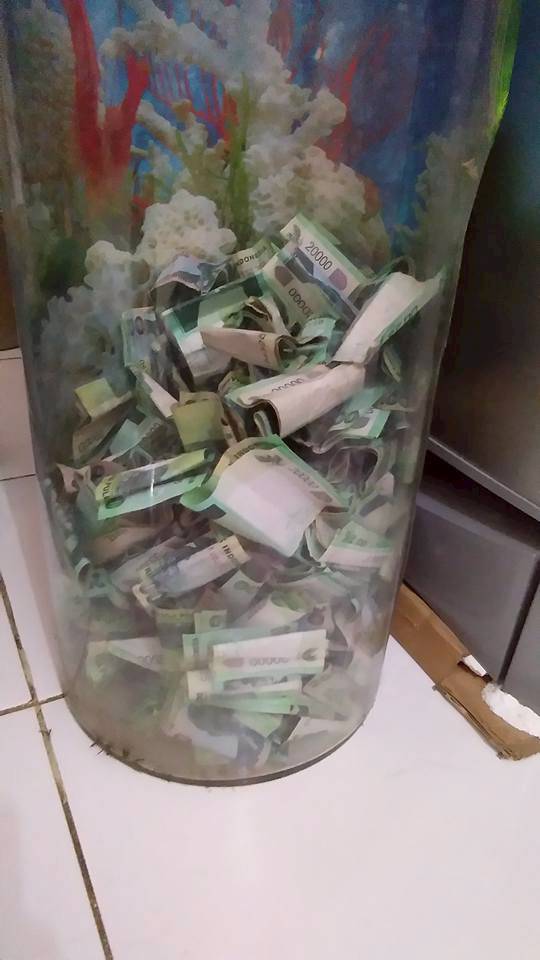 Ditulis POWER OF 20 RB…
YG DIMASUKAN HANYA UANG 20 RB TIDAK ADA SELAIN UANG 20 GAK BOLEH MASUK!! SEHARI DIMASUKEN 20 RB UANG ROKOK… BETUL BETUL BETUL HARI berlalu mkin bertambah…tu duwit …banyak juga ya…
Hingga kini saat mudik Tiba…saat nya dibongkar…LUAR BIASA HASIL FANTASTIS… 1…Thun kebeli Motor 1..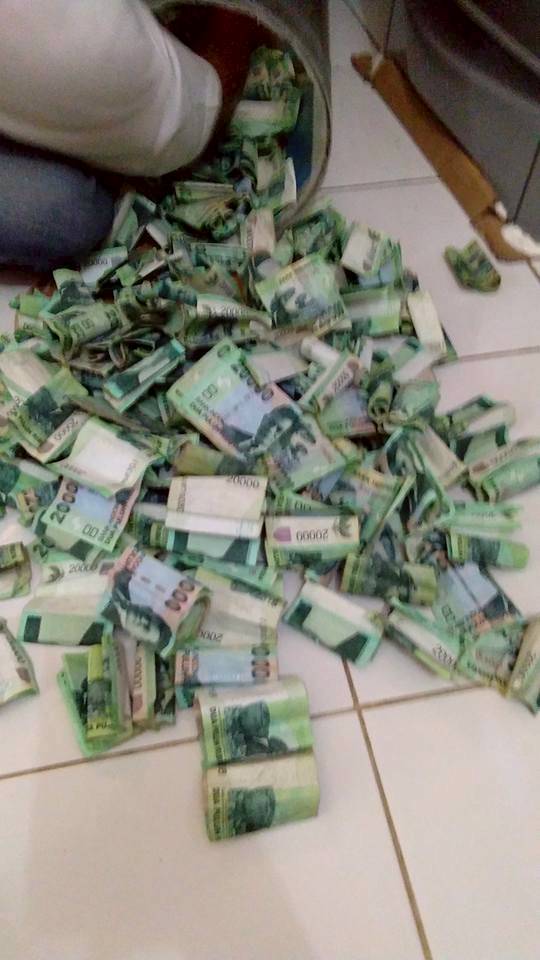 (gak usah nyebut nominal) gk Etis lah ya… Power of 20 rb memang beda bagt gan… Setiap lihat uang 20 rb rasa ingin memasukan kedalam aquarium besar & mengebu _ngebu…
COBA KLU GAK PERCAYA !!!RASAKAN SENSASINYA… UNTUK suami trimaksih bgt…ats kesadaran & ingin selalu ingin produktif lebih baik ,membangun ,mengajarkan semua hal baik.. Semua Hal dlm hidup ini harus ada NEGOISASI…
AKAN LEBIH INDAH HASILNYA… BOLEH DICOBA CARA KAMI…. TIDAK JUGA TDK APA2 SEMUA ITU PRINSIP YA…SESUAI KEPERCAYAA MASING2…INSAALLAH…TRIMAKSIH..'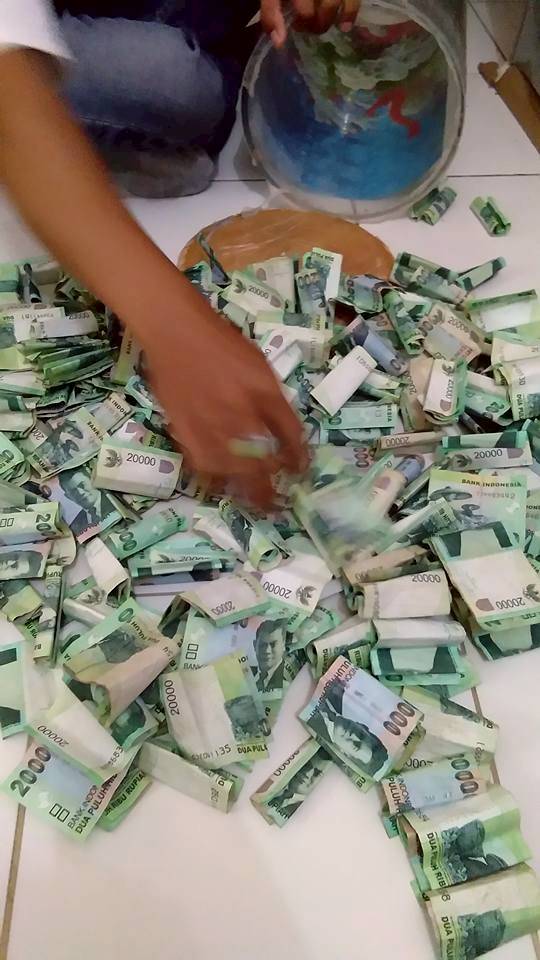 Pengguna akun facebool Dita Sari Wootekh pun tidak menyangka bahwa postingannya itu bakal jadi perbincangan di jagat maya. Bahkan postingan itu pun sempat menjadi pro dan kontra. Beberapa pengguna media sosial pun tidak mempercayai postingan Dita.
Namun Ia pun menepis semua postingan yang menganggap bahwa foto yang diunggahnya itu adalah foto palsu. Ia pun menuliskan sebuah postingan yang menyatakan bahwa postingan itu asli. [lt]